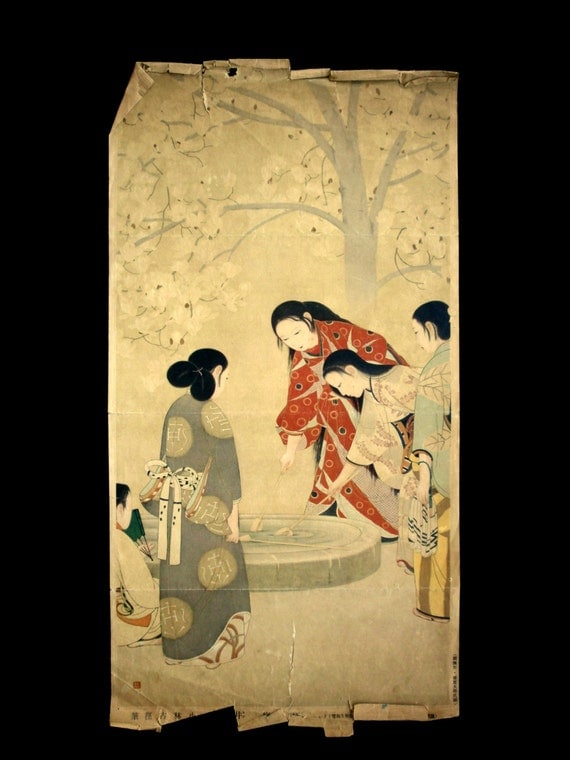 I was so happy to find this print! In this print there is an amazing image of girls drawing water from a well. This is an insert from a magazine. This is called Gokuraiku no ido by Kokei Kobayashi. The original painting was exhibited at The National Museum of Modern Art, Tokyo.
Kobayashi Kokei, original name Kobayashi Shigeru (born Feb. 11, 1883, Niigata prefecture, Japan—died April 3, 1957, Tokyo), artist who greatly contributed to modern Japanese painting.
It is vintage so there are some imperfections. These photos show cuts, folds and discolorations. It is old.
On the back there is a story about Kobayashi Kokei and This Painting "Gokuraku no ido" (well in heaven).
*It is magazine insert and folded in 3 because it is long.
This would be beautiful framed and displayed but it could also be used in mixed media art.
It measures about 42 cm x 22 cm.
**********************************************************
Our Etsy Stores:
Supplies
FromJapanWithLove.etsy.com
Deco Sweet Supplies
DecoSweets.etsy.com
Handmade
SouZouCreations.etsy.com
Vintage
VintageFromJapan.etsy.com
We will combine shipping if you buy from any of our stores.