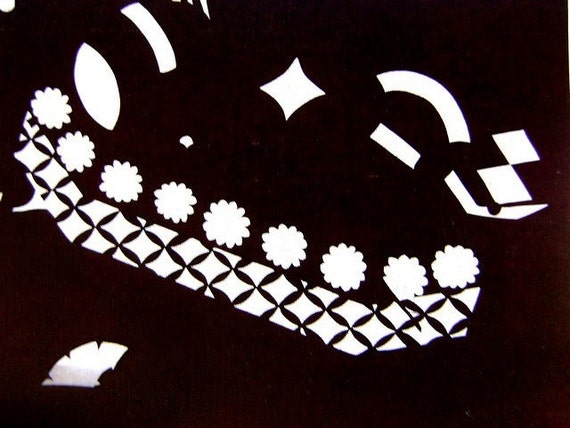 Japanese Kimono Stencil - Katagami - Vintage Stencil - Japanese Stencil - Large Stencil - Vintage Japanese Stencil - Flowers
This was an amazing find. This is from the "昭和" "showa period" . The "showa" period is from 1926-1989. This is called "型紙" or "katagami". Flower.
Katagami are made of multiple layers of thin mulberry paper which are bonded with a glue extracted from persimmon, which makes a strong flexible brown coloured paper.
This katagami was used for "katazome" which is the method of dyeing fabrics (kimonos) using a stencil and a resist paste. The resist paste was made with rice flour and when dyed, the dye didn't adhere to the areas covered with the paste. It was an inexpensive way to make all-over patterns similar to a woven cloth.
**** Please note that this katagami has a fine silk screen between the layers of paper. This was added to reinforce the stencil. This means that unlike some of our other stencils, you wouldn't be able to use a pencil-paint or ink would work.
For more of our vintage stencils please click here
http://www.etsy.com/shop/VintageFromJapan?section_id=6263764
*******PLEASE NOTE- there is a distinct odor from whatever ink was used on this. This is in excellent condition but it is vintage and therefore not perfect. This is also quite sparkly so sparky paint/ink must have been used.
This stencil could be used but it would also be fabulous framed and hung on a wall.
This stencil measures about 22 x 25cm.
PLEASE NOTE:This was very hard to take pictures of and it is much more amazing in person.
**********************************************************
Our Etsy Stores:
Supplies
FromJapanWithLove.etsy.com
Deco Sweet Supplies
DecoSweets.etsy.com
Handmade
SouZouCreations.etsy.com
Vintage
VintageFromJapan.etsy.com
We will combine shipping if you buy from any of our stores.