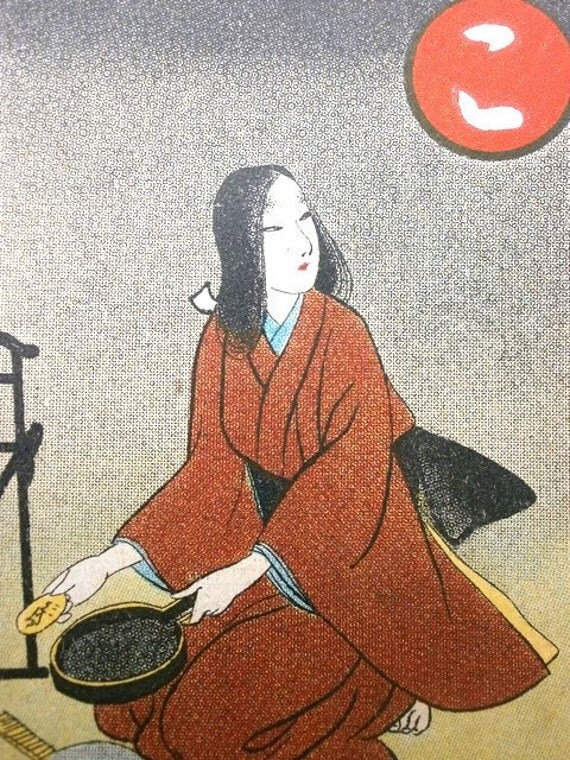 Vintage Japanese Game Card Chiyo Wife of Yamauchi Kazutoyo Set 15 From 1937
Karuta is the most popular among the many kinds of card games in Japan. It is played mostly on New Year's Day, but there are also national conventions for playing karuta. Each card has a poem, or portion thereof, written on it with a total of 100 poems in the game.
The 45th NHK Taiga drama (2006) is a dramatization of the life of Kazutoyo, with his wife Chiyo as the central character. Kōmyō-ga-tsuji: The story tells Chiyo,as a wise and beautiful wife, helped her husband Yamauchi Kazutoyo up from an ordinary samurai to the governor of an entire province, Tosa
****** PLEASE NOTE THIS IS NOT THE ENTIRE CARD SET but rather some of the cards as it was an incomplete game so we broke them up into smaller sets.
2 cards in this set.
In this set, the game of karuta involves two types of cards.
1 "reading" card with drawings: yomifuda
1 "grabbing" card with words: torifuda
There are whole phrases of waka from the collection called Hyakunin Isshu written on the yomifuda. Only the lower phrase of the waka is written on the torifuda. When the reader reads out the waka on the yomifuda, the player quickly searches for the card among the torifuda to look for the phrase that matches the one that the reader is reading. This is the basic rule.
These are from the "昭和" "showa period" . The "showa" period is from 1926-1989 but these are from 1937.
These would be great for using in your art...mixed media, collage etc.
Each card measures 7 x 4.8 cm.
You get the cards you see in the pictures.
**********************************************************
Our Etsy Stores:
Supplies-
FromJapanWithLove.etsy.com
Deco Sweet Supplies-
DecoSweets.etsy.com
Handmade-
SouZouCreations.etsy.com
Vintage-
VintageFromJapan.etsy.com
We will combine shipping if you buy from any of our stores.