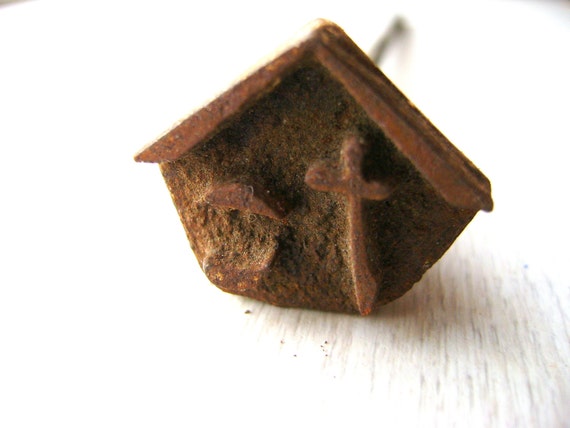 Vintage Branding Iron - Japanese Branding Iron - Vintage Yakiin - Yakin - Kanji Stamp - Metal Stamp - Hiragana Ta S116
This is a vintage branding iron called a "yakiin". These were/are used on wood, leather...food...anything you want to brand. Please see the last picture to see an example of how it can be used.
I think they would look fabulous if used in pottery as a stamp. Also...I think they could be used with ink but as it is metal, the image wouldn't be as smooth and clear as a rubber stamp -please keep that in mind if that is how you want to use it.
"た" "Ta" (Hiragana character in Japanese writing forms) means
他: other
田: field
The hiragana syllable た (ta), whose equivalent in katakana is タ (ta). It is the sixteenth syllable of the gojūon order, and its position in gojūon tables is た行あ段 (TA-gyō, A-dan; "row TA, section A").
For a list of words starting with た (ta) see: Special:Allpages/た
http://en.wiktionary.org/wiki/Special:AllPages/%E3%81%9F
They are from the "昭和" "showa period" . The "showa" period is from 1926-1989 but these are at least 30 years old.
This is made of iron. Please look at the pictures carefully
It measures 22 cm long x 2 cm (the stamp) wide.
**********************************************************
Other branding irons are available on this page.
https://www.etsy.com/shop/fromjapanwithlove?section_id=10203757
We will combine shipping if you buy from any of our stores.