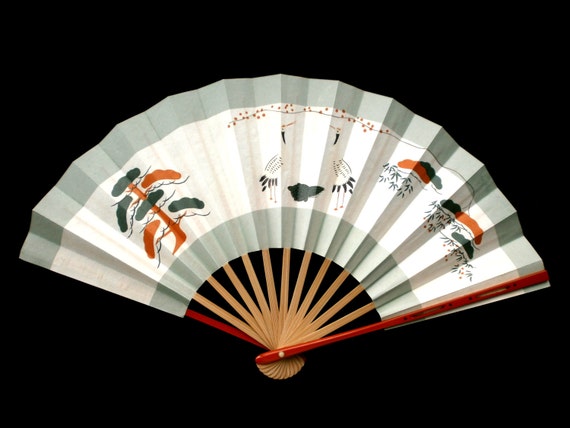 Hand Fan Ogi Sensu Hand Painted Small Size F77 Crane Turtle Pine Tree Japanese Lucky Symbols
This hand fan is called "Ogi" or "Sensu". There is image of Japanese lucky symbols (crane, turtle, pine tree, bamboo leaf and plum blossoms). The colors of hand fan are light blue, green, orange, black, white and cream. The wood is bamboo.
On the back, 5 pieces of silver leaf is pasted. There are 3 cute humans, green grasses, traditional building, green and orange leaves.
Crane and Turtle - symbols of long life.
Pine, Bamboo and Plum Blossom - Together they symbolize steadfastness, perseverance, and resilience.
It is hand painted and so beautiful!!.
This hand fan is simple yet elegant! This is vintage and while it is in great condition it isn't perfect.
It is about 20 cm long and when opened is about 34.5 cm wide.
**********************************************************
Our Etsy Stores:
Supplies and more
FromJapanWithLove.etsy.com
Vintage
VintageFromJapan.etsy.com
We will combine shipping if you buy from any of our stores.